Blog Posts: Retail Law Advisor
Class Action Lawsuits on the Rise under New Jersey's Consumer Protection Laws – Which Retailers Will Be Targeted Next?
Does your retail business conduct sales online? For most retailers today, the answer is likely yes. This means that the recent surge of class action lawsuits against merchants arising out of a consumer protection law in New Jersey called the Truth-in-Consumer Contract, Warranty and Notice Act (TCCWNA) merits your attention. This statute is still relatively under the radar of many retail businesses. Yet the numerous class action lawsuits that have been filed under the TCCWNA, and the variety of businesses across the country that have been targeted, indicates that retailers that conduct business online should be on alert, even if they do not have a physical presence in New Jersey.
New Jersey's TCCWNA prohibits sellers from entering into a consumer contract or displaying any consumer notice "which includes a provision that violates any clearly established legal right of a consumer or responsibility of a seller ... as established by State or Federal Law." Furthermore, the TCCWNA expressly provides that a seller cannot immunize itself with a catch-all savings clause in such contract or notice that states that "any of [its] provisions is or may be void, unenforceable, or inapplicable in some jurisdictions without specifying which provisions are or are not void, unenforceable, or inapplicable within the State of New Jersey."
The TCCWNA lay dormant for decades after it was signed into law in 1982 and has only recently been resurrected by plaintiffs seeking to take advantage of the vulnerability that the TCCWNA exposes in the era of e-commerce. Under the TCCWNA, a retailer that does business online with New Jersey customers is subject to the TCCWNA, whether or not the retailer has a physical presence in New Jersey. Many of the class action lawsuits that have been filed against retailers have focused on the retailer's online Terms of Sale. While the TCCWNA applies equally to sellers that have brick and mortar stores in New Jersey, the TCCWNA also creates potential liability for unsuspecting retailers that do not have a physical presence in New Jersey. The statute requires that both in-state and out-of-state businesses know New Jersey law well enough to ensure that their Terms of Sale do not violate any clearly established New Jersey law. The chart below from the New Jersey Civil Justice Institute shows that lawsuits under the TCCWNA have skyrocketed in recent years, indicating that plaintiffs (or their class action lawyers) have taken advantage of retailers' lack of knowledge regarding both the TCCWNA and clearly established New Jersey law. In the last year alone, a diverse array of retailers have been targeted, including Toys "R" Us, J. Crew, and Bob's Discount Furniture, to name a few.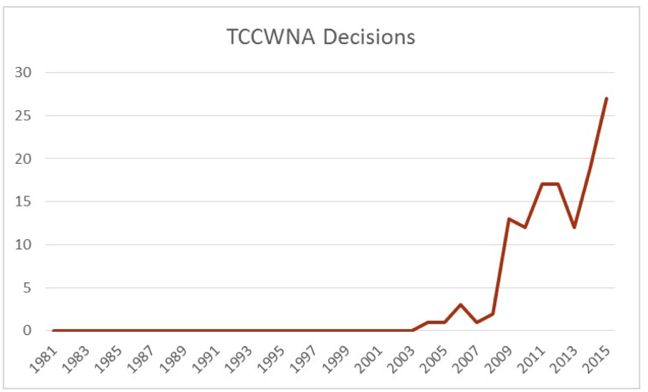 Retailers targeted by TCCWNA claims could face significant exposure given that damages under a class action case can reach millions of dollars and the non-prevailing party may be required to pay the prevailing party's attorneys' fees. Furthermore, the many uncertainties in how the statute is interpreted are making it difficult for retailers to assess their potential liability in order to devise an appropriate strategy.
This year may yield some clarity and guidance from New Jersey regarding the TCCWNA. In April 2017, the Supreme Court of New Jersey agreed to answer two certified questions presented to it by the United States Court of Appeals for the Third Circuit. The first question is whether a consumer who has not suffered any adverse consequences from a retailer's non-compliance with the TCCWNA can be considered an "aggrieved consumer" under the law. The second question is whether a violation of a New Jersey regulation alone would constitute a violation of a "clearly established legal right" under the TCCWNA.
In addition, New Jersey legislators have introduced bills that are aimed at both expanding the reach of the TCCWNA as well as limiting it. New Jersey Assembly Bill 759, which was introduced in January 2016, proposes to expand the protections under the TCCWNA to prohibit the inclusion of provisions in the Terms of Sale that limit customers' rights under the TCCWNA or require customers to waive those rights, including the right to bring a class action. New Jersey Assembly Bill 4121, which was introduced in September 2016, seeks to narrow the class certification by prohibiting class certification for TCCWNA claims "in the absence of an ascertainable economic loss resulting from the alleged violation." If either of the Bills is passed and signed into law, it could have a significant impact on TCCWNA litigation.
Since retailers will have to wait until later this year or longer for clarity from the New Jersey Supreme Court and from the New Jersey legislature, retailers who conduct business online may consider reviewing their Terms of Sale to identify any provisions that are obviously in violation of the TCCWNA and revising such provisions in order to reduce the likelihood of being targeted by class action plaintiffs. Meanwhile, retailers should keep abreast of developments in the New Jersey courts and legislature concerning the TCCWNA, as these developments may prescribe the degree of attention and resources such retailers will need to devote to minimizing their exposure under the TCCWNA.