Representative Matters
$585M Construction Financing for Life Sciences-anchored, Mixed Use Development
Representation of prominent life sciences joint venture in connection with obtaining a $585M mortgage and mezzanine construction loan for a multi-building, mixed use development project comprised of lab space, apartments, retail, parking and public amenities, located in Boston's Allston neighborhood.
Represented Ivanhoé Cambridge in $3.6-billion Multi-Family Portfolio Acquisition
Represented Ivanhoé Cambridge in its $3.6-billion acquisition and joint venture with Greystar for a portfolio of 30 multi-family properties located across 13 states.
AXA IM Alts and its Affiliates in one of the Largest Industrial Portfolio Acquisitions of 2020
Representation of AXA IM Alts and its affiliates in one of the largest industrial portfolio acquisitions of 2020. The portfolio consists of 27 assets in Chicago, Houston, Los Angeles, Central New Jersey, Dallas, South Florida, Southern New Jersey and Atlanta. In a significant step in its strategy to grow a U.S. wide logistics platform, AXA IM Alts, on behalf of clients and through a joint venture with Cabot Properties, Inc., acquired the 7,984,000 s/f portfolio for approximately $875 million, through a share purchase of a REIT previously managed by Cabot Properties. Representation included all matters related to property diligence, structuring, joint venture, purchase, financing, tax and environmental considerations of the property, including tax and structuring issues relating to cross-border investments.
Plaxall Realty Development of Anable Basin Site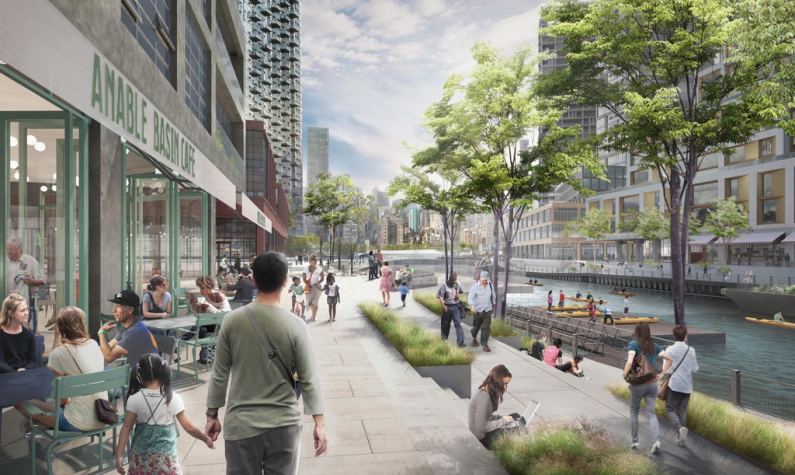 Representation of Plaxall Realty in connection with the development of a portion of its Anable Basin site in Long Island City, New York with Amazon for its New York HQ2 campus, prior to February 2019 when Amazon withdrew from Long Island City. Goulston & Storrs continues to represent Plaxall Realty with matters associated with the company's Long Island City properties.
$77.5M Office Park Joint Venture Purchase
Representation of private equity firm in the joint venture purchase of a $77.5 million Texas office park.
Representation of a Global Leader in Real Asset Investment and Portfolio Management
Representation of a global leader in real asset investment and portfolio management in connection with many acquisitions, including in California, Washington DC and Maryland.
Represented Great Gulf Group in SFR Programmatic Joint Venture
Represented Great Gulf Group in its negotiation of a programmatic joint venture with a global institutional investor for the acquisition and development of single family rental housing projects.
Represented Industrial Assets Sponsor in Several Joint Ventures
Represented vertically-integrated sponsor and manager of industrial assets in various joint venture arrangements with institutional LPs.
Life Sciences Developer Acquisition and Joint Ventures
Representation of Botanic Properties in the acquisition of the ground leasehold interests in a property in Philadelphia, Pennsylvania, to be redeveloped into a life sciences facility, as well as the co-GP and institutional LP joint venture arrangements.
CrossHarbor Capital Partners Preferred Equity Investment
Representation of CrossHarbor Capital Partners in its preferred equity joint venture investment with a prominent national homebuilder for the development of a luxury, multifamily rental community in Stamford, Connecticut.
Iovino's JV Wins Bid Protest to Begin NYC Climate Change Project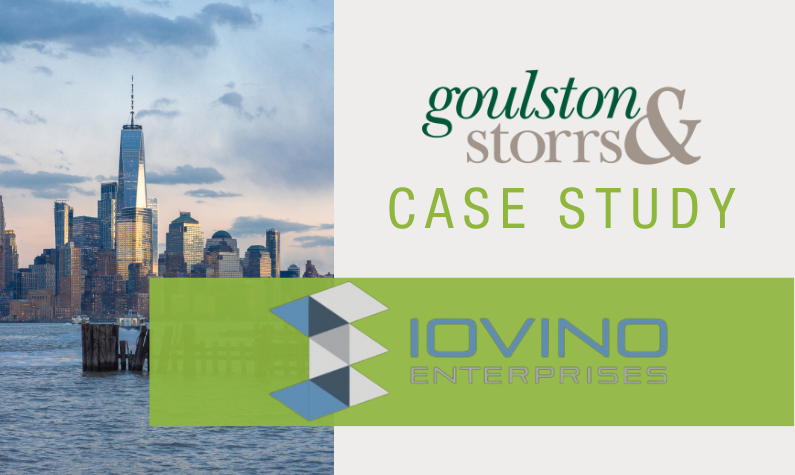 Climate change is threatening all coastal cities, including prominent New York City. A collaboration between the city and the federal government introduced a one-of-a kind solution to protect Manhattan's East Side from coastal flooding: The East Side Coastal Resiliency (ESCR) Project. After an RFP process, two competitive bidders rose to the top. But when the city awarded the work to Iovino's joint venture, an Article 78 proceeding – more commonly known as a bid protest – was filed. Read how Goulston & Storrs used 'stacking' as a foundational legal strategy to clear the way for Iovino to start construction.
Resources
Multifamily Developer Joint Venture Arrangements and Acquisition Financing
Representation of a privately owned real estate investment and development firm in connection with multiple tiers of joint venture transactions, including co-GP and institutional LP arrangements, and obtaining senior and mezzanine bridge financing related to the acquisition of an assemblage of properties in downtown Brooklyn, New York, for development into a luxury multifamily rental building.
Elco Landmark Residential Recapitalization of Landmark Apartment Trust of America, Inc.
Representation of Elco Landmark Residential, in the recapitalization of Landmark Apartment Trust of America, Inc., a non-public REIT, through a $535M contribution of properties and cash involving 37 apartment communities across 17 U.S. states, with its partners Ontario Pension Trust and DeBartolo Development.
Stillwater Investment Management Corporation and Belpointe Capital LLC Joint Venture for Multifamily and Retail Projects in Norwalk, CT
Representation of Stillwater Investment Management Corporation and Belpointe Capital LLC in connection with a joint venture with respect to the acquisition of 3 city blocks in Norwalk, CT. These properties will be redeveloped with multifamily and retail projects.
Kennedy Wilson Investment with Major Private Equity Fund in Multifamily Community in Petaluma, CA
Representation of Kennedy Wilson on its investment with a major private equity fund in the $68M purchase of a 492-unit multifamily community in Petaluma, CA.
CWB Boylston Development, Financing, and Sale of Mandarin Hotel Boston
Counsel to CWB Boylston in the development, financing, and leasing/ sale of the Mandarin Oriental Boston mixed-use hotel, condominium, rental, and retail project, including separate $37M and $45M equity investments during development and construction of the project.
Formation of a Private REIT and Related Limited Partnerships for Acquisition of Multifamily Properties and Other Asset Classes
Formation of a private REIT and related limited partnerships with capitalization of approximately $150M, provided primarily by corporate and governmental pension plans, for the acquisition of multifamily properties and other asset classes throughout the United States.
Federal Realty Investment Trust Joint Venture and Acquisition of Controlling Interest in Montrose Crossing
Representation of Federal Realty Investment Trust in connection with the formation of a joint venture and acquisition of a controlling interest in Montrose Crossing, a 357,000 square foot existing shopping center with an adjacent developable parcel in Maryland. The $127M purchase also involved an $80M loan from Allianz Life Insurance Company of North America.
CrossHarbor Capital Partners Joint Venture to Acquire Interest in Shopping Centers in PA
Representation of CrossHarbor Capital Partners in connection with the negotiation and formation of multiple joint venture arrangements relating to the acquisition of an 80% interest in three shopping centers in Pennsylvania totaling more than 635,000 square feet.
CBL & Associates Properties $1B Joint Venture
Representation of CBL & Associates Properties, Inc. in the formation of a $1B joint venture with TIAA-CREF to invest in market-dominant shopping malls nationally.
AION Partners $100M Joint Venture with The Carlyle Group for Apartment Property in VA
Representation of AION Partners LLC in the approximately $100M joint venture acquisition with the Carlyle Group of an apartment property in Virginia.
Samuels & Associates Joint Venture with Legacy Capital Partners for Acquisition and Redevelopment of Hingham Shipyard
Representation of Samuels & Associates in connection with a joint venture with Legacy Capital Partners for the acquisition and redevelopment of the historic Hingham Shipyard in Hingham, MA, into a 400,000 square foot mixed-use, transit-oriented development including retail, residential and office uses.
Public REIT Financing of Retail Plaza in El Segundo, CA
Representation of a public real estate investment trust in connection with their $125M financing of a retail plaza in El Segundo, CA.
Samuels & Associates Joint Ventures with JP Morgan for Mixed-Use Developments in Boston
Representation of Samuels & Associates in connection with two joint ventures with JP Morgan, resulting in the development of the 650,000 square foot Trilogy mixed-use development and the 400,000 square foot 1330 Boylston Street mixed-use development both located in the Fenway neighborhood of Boston, MA.
Large NYSE-Traded Mall REIT Capital Markets Transactions
Representation of a large NYSE-traded mall REIT with respect to its capital markets transactions, including issuances in 2010 and 2009, complex property portfolio transactions, joint ventures, and general board and management advisory work.
Allianz Joint Venture with Major Owner and Developer of Retail Properties in NYC
Representation of Allianz Real Estate in a joint venture with a major owner and developer of retail properties in New York City.
Clark Enterprises Joint Venture with Publicly-Traded REIT for Office Building in Washington, D.C.
Representation of Clark Enterprises, Inc. in a joint venture with a publicly-traded REIT for the re-capitalization, re-financing, and re-development of a 200,000 square foot office building in downtown Washington, D.C.
Forest City Enterprises Joint Venture with Health Care REIT in University Park
Representation of Forest City Enterprises, Inc., in the creation of an approximately $700M joint venture with Health Care REIT, Inc., in a seven-building life sciences campus located in Forest City's mixed-use University Park project in Cambridge, MA.
Pyramid Advisors Joint Venture and Hotel Management Arrangements for Five-Hotel Portfolio
Representation of Pyramid Advisors in connection with joint venture and hotel management arrangements with General Electric Pension Trust incident to the acquisition of a five-hotel portfolio from a joint venture between Morgan Stanley and Pyramid.