Cannes Brick and Mortar Retail in the United States Make a Comeback?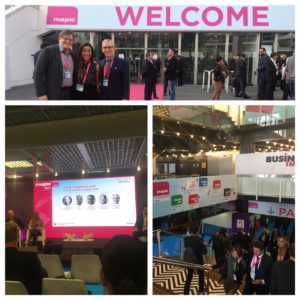 2017 MAPIC Conference in Cannes, France
Last week, a contingent from Goulston & Storrs attended the annual MAPIC conference in Cannes (pronounced "Can"), France for the seventh consecutive year. We expected to field questions about the challenges facing brick and mortar retailers in the United States as well as inquiries regarding how domestic political events might affect foreign companies entering the U.S. market. However, to our surprise, we received very few questions regarding the political climate; instead, the more immediate concern was how the U.S. retail industry would address its current challenges.
Food and beverage received the most attention at this year's conference, an acknowledgement of its critical role in revitalizing malls and the overall retail experience in the United States. Following the success of the Time Out Market in Lisbon--a food hall containing restaurants, bars, and vendors selling fresh meats and fruits--two major U.S. cities will be introducing Time Out Market to its neighborhoods. Time Out Market will open in South Beach, Miami in 2018 and in Boston's Fenway district in 2019. Time Out Market's CEO, Didier Souillat, shared his experience on the panel entitled "Cosmopolitan Uplift: A New US Retail Scene." On the same panel, Rachel Belam, head of food and beverage leasing for Westfield Mall Europe, spoke about the recently finished update to the Century City Mall in Los Angeles, California. Among the major improvements, Rachel mentioned the large Eataly that was added. Eataly presents consumers with the ability to stop in for an Italian coffee shop for fresh Italian products or pick up prepared foods. The rationale here is that food and beverage customers will spend some time shopping as well. We've seen this same idea put to practice at the Prudential Center in Boston's Back Bay with the addition of an Eataly in 2016.
While food and beverage may bring customers to malls and the nation's high streets, short term leases, concept and pop-up stores are designed to attract reticent retailers. Philippe Lanier of Eastbanc indicated that landlords are increasingly willing to be creative in attracting retailers to their properties by offering short term leases to reduce the retailer's risk and to work with retailers in auditioning new concepts.
Concept stores were another hot topic discussed at the conference. A concept store carries merchandise from a number of different brands, and offers retailers and manufacturers who aren't currently in a market an opportunity to test the viability of their goods before committing to a more permanent presence. By offering an expansion opportunity with low risk, the concept store idea is attractive to international brands not yet present in the U.S. At the USA Breakfast at MAPIC, we heard from Mohamed Haouache, the CEO of Storefront, Inc., a company that sets up pop-up stores for brands. We learned that Nike has worked with Storefront to open up pop-up stores internationally. This model seems equally useful to foreign retailers who are interested in testing different regions of the U.S. market.
From conversations with our friends and colleagues whom we've seen at the conference year after year, there seems to be a consensus that brick and mortar retail is faring better in the capital cities of Europe than it is in America. For one thing, e-commerce has not yet penetrated the European market to the same extent it has in America. And perhaps more importantly, European cultural attitudes continue to bring customers to the streets and stores in densely packed cities. We look forward to returning to Cannes next year to see how these trends play out.