Representative Matters
American Campus Communities: Collaborating to Benefit Students and Communities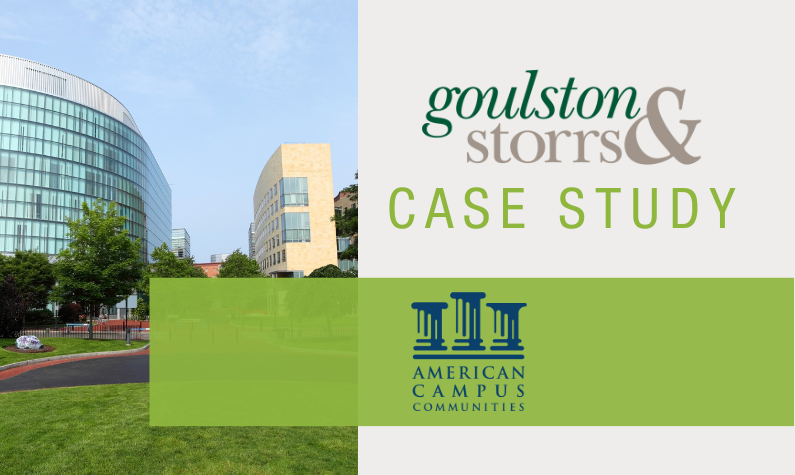 The City of Boston launched an update to its comprehensive housing plan – "Housing A Changing City: Boston 2030" – designed to address housing needs at a time when Boston's population was growing faster than expected. The update set new goals for housing production, including the goal of improving the quality and quantity of student housing for college students to free up conventional housing units for the local community.
The City asked local colleges and universities to join the initiative and provide additional on-campus student housing. Our client, a major research university, didn't hesitate to answer the City's call.
Resources
Seaport District Projects
Regulatory approvals for real estate developments throughout Boston's Seaport District, including apartments, condominiums, hotels, and tech, office and retail space.
Phased Mixed-Use Developments
Phased mixed-use developments in central Boston approved under the Planned Development Area provisions of the Boston Zoning Code, including the 6.3-million-square-foot Seaport Square on 23 acres in the Seaport and the Harrison-Albany project, a 700,000-square-foot residential and commercial development in the South End.
Market-Rate, Mixed-Income and Affordable Residential Projects
Market-rate, mixed-income and affordable residential projects in the Boston neighborhoods of Brighton, Dorchester, East Boston, Jamaica Plain and Roxbury, including compliance with Boston's Inclusionary Development Policy.
State Waterfront Licensing Under Chapter 91
State waterfront licensing under Chapter 91 for projects with path-breaking climate resilience strategies, including Clippership Wharf in East Boston, the Innovation and Design Building in the Ray Flynn Marine Park, and Building 114 and the Spaulding Rehabilitation Center in the Charlestown Navy Yard.
Institutional Master Plan Approvals for Hospitals and Universities
Institutional master plan approvals for major Boston hospitals and universities, including Massachusetts General Hospital, Northeastern University, and Berklee College of Music.
Harvard University's Allston Campus
Representation of Harvard University in the development of its Allston campus, including several business school facilities, a science and engineering building, a district energy plant and the revitalization of Barry's Corner with green spaces, a flood storage swale, pedestrian improvements and other community benefits.
Facilities for Cultural Institutions
Facilities for cultural institutions, including additions to the Boston Museum of Fine Arts and the Gardner Museum and new homes for the Boston Society of Architects, Historic Boston Incorporated and the Emerald Necklace Conservancy.
Public-Private Partnerships for Public Open Space
Formation, regulatory approvals, and funding options for public-private partnerships to create public open space, including representing The Trustees of Reservations in pursuing a destination park along Boston's historic waterfront, and the Martin Richard Foundation in completing Martin's Park in the Seaport.
Adaptive Re-Use of Historic Buildings
Adaptive re-use of historic buildings, including FP3, Channel Center, and 319 A Street in the Fort Point Channel historic district.
Historic Restorations Throughout Boston
Historic restorations in the Back Bay, South End and Beacon Hill, including the Burrage Mansion, Zero Marlborough, 25 Beacon and Marais.
Developer Designations of Publicly-Owned Sites
Developer designations of publicly-owned sites from the Boston Planning and Development Agency for projects in urban renewal areas; from the Boston Housing Authority for housing redevelopments in Mission Hill, Orient Heights and Charlestown; and from the Massachusetts Department of Transportation for land and air rights parcels including Columbus Center in the Back Bay, the Merano in the Bulfinch Triangle and Parcel 9 in Dudley Square.