Representative Matters
Iovino's JV Wins Bid Protest to Begin NYC Climate Change Project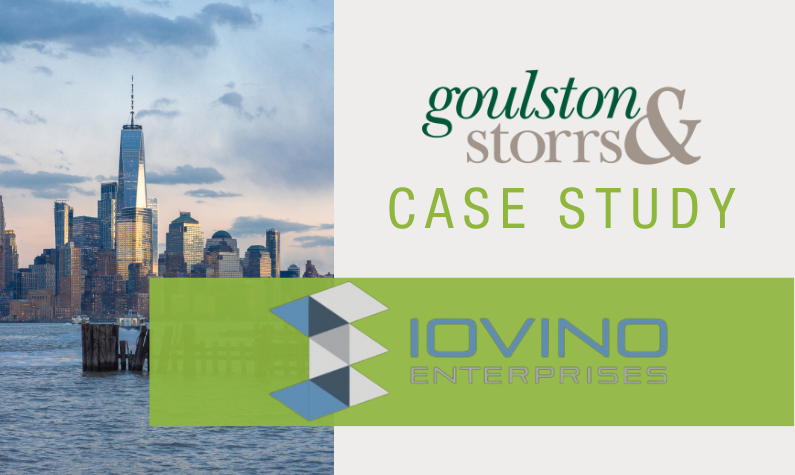 Climate change is threatening all coastal cities, including prominent New York City. A collaboration between the city and the federal government introduced a one-of-a kind solution to protect Manhattan's East Side from coastal flooding: The East Side Coastal Resiliency (ESCR) Project. After an RFP process, two competitive bidders rose to the top. But when the city awarded the work to Iovino's joint venture, an Article 78 proceeding – more commonly known as a bid protest – was filed. Read how Goulston & Storrs used 'stacking' as a foundational legal strategy to clear the way for Iovino to start construction.
Resources
Successfully Defended Iovino in One of the Largest Bid Protest Actions in New York City
Represented an Iovino Enterprises joint venture in the successful defense of multiple challenges to the JV's winning bid of over $1.2 billion for the East Side Coastal Resiliency Project that will protect lower Manhattan from flood risk due to coastal storms. See details here. Our team defeated multiple applications for temporary restraining orders and preliminary injunctions sought in separate proceedings by a losing bidder and by community groups at both the trial court and appellate court levels.
Real Estate Fraud and Breach of Contract; Stay of Fraudulent Judgments
Represented purchaser of the old Saint John's hospital in Queens, New York that was riddled with construction defects against claims by the seller for nonpayment. Our team obtained an order staying enforcement of confessions of judgment based on proof that they were obtained by fraud. The action was ultimately settled to the client's satisfaction.
Defended Claim for Breach of Technology Contract
Represented hardware and software developer against claim by buyer that technology did not perform to specifications. There were sharp factual disputes over the specifications and the manner in which the buyer installed the technology. The action was settled to our client's satisfaction.
Investigated Fraudulent Actions by CEO
Represented a publicly traded European telecommunications company and its U.S. subsidiary in an investigation of the subsidiary's CEO for fraud and embezzlement. Obtained a temporary restraining order and preliminary injunction preventing the dissipation of the stolen funds, then obtained an order of attachment and recovered the funds that were held in U.S. banks.
Claims of Discrimination and Retaliation
Represented a law firm and its managing partner against claims of discrimination and retaliation. The plaintiff failed to abide by a mandatory contractual arbitration clause. After conducting an investigation, obtained a dismissal with prejudice when plaintiff filed a second court action rather than complying with a court order directing the dispute to arbitration.
Court Action and FINRA Arbitration Against Former Employees
Represented an international investment bank in connection with a court action and FINRA arbitration against former employees who downloaded proprietary information shortly before their resignations to join a competitor. Obtained a temporary restraining order and preliminary injunction preventing the use by defendants of the downloaded documents.
Restrictions Against Employees Soliciting Their Former Customers
Represented a commodities meat wholesaler and two employees it recruited from a competitor. Defeated a motion for a preliminary injunction alleging that our clients had improperly violated restrictions against soliciting their former customers
Contractual Agreement Not to Solicit Former Colleagues to Join a Competitor
Represented a partner in a dispute with a Big Four accounting firm, which alleged he had violated a contractual agreement not to solicit his former colleagues to join a competitor. The client asserted counterclaims for compensation. After a two-week arbitration heard by a three-arbitrator panel, the arbitrators entered an award in our client's favor on these non-solicitation and compensation claims.