Representative Matters
WS Development Commercial Leasing for the Seaport District
Representation of WS Development in the negotiation and drafting of its commercial leases and related documents, including in connection with urban retail leasing for the newly developed Seaport District of Boston. Negotiated leases with national retail tenants, which involves, among other things, the specific consideration and understanding of the interplay between urban street retail needs and city easements and other public rights.
Victim Rights Law Center: Rebuilding the lives of sexual assault survivors through extensive training, established trust, and hope.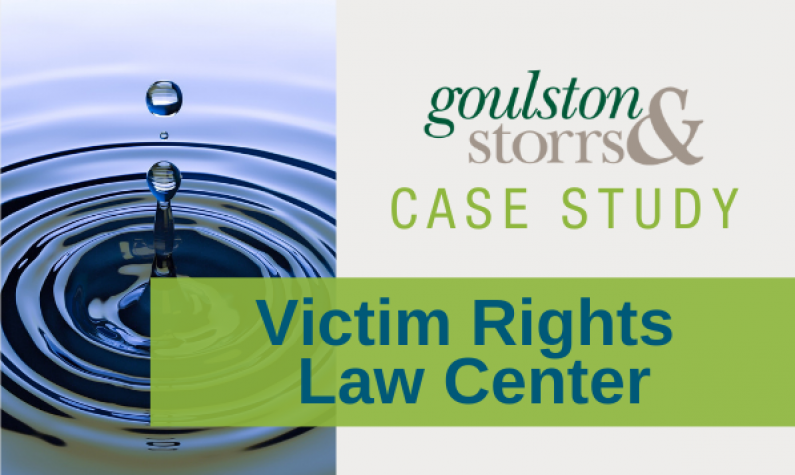 The Victim Rights Law Center ("VRLC") is the nation's first nonprofit law center dedicated to providing sexual assault survivors with comprehensive legal representation. From its inception, the VRLC sought to distinguish itself as the first nonprofit law center in the country solely focused on providing free, survivor-centered legal services to sexual assault victims of all ages, gender identities, and sexual orientations, and to survivors at the intersections of oppression who are often the most marginalized and in need of legal assistance.
Resources
WS Development Leasing in MA and FL
Represent WS Development in connection with retail and office leasing throughout its diverse portfolio, including:
the new Seaport Square Project in Boston, MA, which is a 7.5 million square foot mixed-used retail, office, residential, and hospitality project featuring distinctive public parks and amenities;
the Royal Poinciana Plaza, which is an approximately 190,000 sq. ft. of high end, boutique retail shopping in Palm Beach, FL;
Hyde Park Village in Tampa, FL;
The Street Chestnut Hill in Brookline, MA; and
Market Street in Lynnfield, MA.
Federal Realty Investment Trust
Represent Federal Realty Investment Trust in retail and office leasing at Assembly Row, a cohesive shop, dine, work, live and play property located in Somerville, MA. This multi-phased project is a mixed-use property that is transit oriented. Major retail tenants include an AMC Theater, Legoland Discovery Center, Saks Off 5th, as well as a variety of other retail, fitness and restaurant uses, including Legal Seafoods and Earl's, a Canadian restaurant entering the US. Represent Federal Realty Investment Trust in leases with national and regional anchor and junior anchor tenants throughout their East Coast portfolio.
Boston Properties 450,000 Square Foot Office Leasing
Representation of Boston Properties in connection with the leasing of 450,000 square feet of office space to one of the largest private, independent investment management companies. This was the first green skyscraper and is a platinum LEED rated office tower on Atlantic Wharf in Boston, MA.
Samuels & Associates Redevelopment of Landmark Center
Represent Samuels & Associates in connection with leasing needs throughout this client's portfolio including the redevelopment of the Landmark Center. Within the Fenway neighborhood, represent this client in the leasing to a childcare center as well as to most of its restaurant tenants, including Tiger Mama, Hojoko, and Saloniki. Also, negotiated the lease of a Trader Joe's grocery store within the mixed-use Continuum, adjacent to Harvard University and located in Allston, MA.
Neighborhood Development Corporation in Multitude of Real Estate Services
Represent a neighborhood development corporation in the acquisition, development, financing and leasing of affordable housing, mixed-use, and transportation-oriented developments in the Dorchester neighborhood of Boston.
Retail Chain in Properties Disposition
Represent a retail chain in the disposition of its portfolio of properties in Massachusetts and Rhode Island.