Representative Matters
Representation of PT Networks in Sale to Athletico
Represented PT Networks, a premier provider of physical therapy, occupational health, and onsite corporate health services, in its sale to Athletico Physical Therapy, a portfolio company of funds affiliated with BDT Capital Partners, LLC, through an auction process conducted by Jefferies. G&S, in collaboration with key trusted advisors and industry experts, helped Pivot attain significant operational and financial improvements, while the company continued to provide top-notch patient care despite challenges faced throughout the pandemic.
ThreatWarrior Series A Financing
Representation of ThreatWarrior, a premier cybersecurity company, in its successful Series A financing by investors Ecliptic Capital, CrowdStrike Falcon Fund, and Alumni Ventures Group.
ThreatWarrior: Guiding a Team of Entrepreneurs and Active Investors to Early Success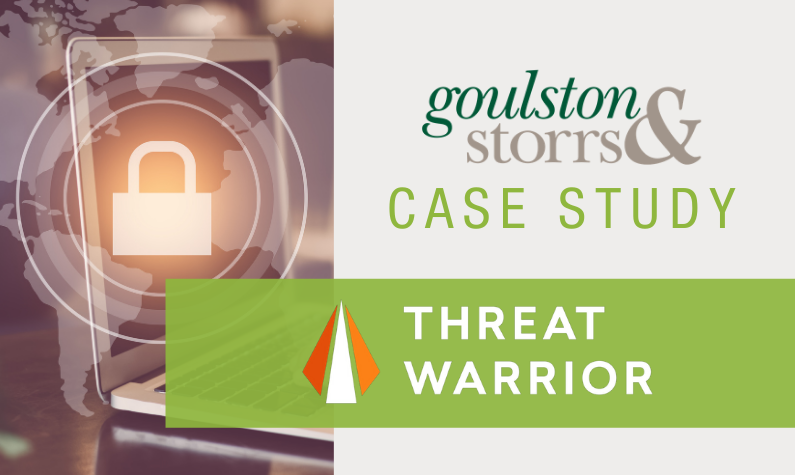 ThreatWarrior is an emerging cybersecurity company that is growing rapidly. Committed to defending all organizations against evolving cyberattacks, ThreatWarrior's goals were extensive, including creating a corporate and equity framework, facilitating the integration of an incoming professional management team and a small group of entrepreneurial founders, preparing the company to secure financing, and re-launching a new website and updated messaging campaign. This accelerated growth plan presented a myriad of key challenges to overcome.
Resources
$8.5 Million Seed Funding Round in Sports Technology
Representation of a West Coast sports and fan engagement technology company in its $8.5 million seed funding round.
$92 Million Family Office Sale
Representation of a family office in its $92 million sale of a basket of limited partnership interests in leading private equity funds to leading global secondary investor.
$970 Million National Student Housing Company Sale
Representation of a national student housing company in its staged sale to a public real estate investment trust (REIT) in a transaction with a total enterprise value of $970 million.
Acquisition of a Leading Global Golf Equipment Company
Representation of a global sports apparel and footwear company and a Korean private equity firm in the $1.2 billion acquisition of a leading global golf equipment company.
Acquisitions by Specialty Chemicals Company
Representation of a leading specialty chemicals company in its $3.8 billion acquisition of a worldwide specialty additives business and $640 million acquisition of a worldwide hydrogen peroxide business.
Brewing Company Acquisition
Representation of an American entrepreneur in the acquisition of a storied American brewing company.
Colombian Manufacturer $243 Million Business Combination
Representation of a privately held Colombian architectural glass and window manufacturer in its $243 million business combination with a special purpose acquisition company.
European Life Sciences Acquisitions, Disposals and Joint Ventures
Representation of a European life sciences company in various acquisitions, disposals and joint ventures including the $725 million acquisition of a pharmaceutical container business, $131 million sale of its worldwide laboratory equipment business to a leading scientific glass manufacturer, and a worldwide joint venture for life sciences products and the sale of its worldwide pharmaceutical glass tubing operations to and joint venture with a major US based glass and materials science company.
German Electric Utility Worldwide Joint Venture
Representation of a German electric utility and utility services company in the establishment of a worldwide joint venture with an engineering services company.
New York-based Venture Capital Firm and Startup Studio
Representation of a New York-based venture capital firm and startup studio in investments in various consumer products companies.
Private Investment in Commercial Fusion Energy startup company.
Representation of Boston-based private investment firm in its investment in a commercial fusion energy startup company.
South African IT Services Company Acquisition
Representation of a South African information technology (IT) services company in its acquisition of a US advanced IT solutions company and a US telepresence and videoconferencing company.
US Alternative Energy Investments
Representation of a global financial institution group on US alternative energy investments, including wind, residential, commercial and industrial solar systems.
$15 Million Equity Investment in Clinical AI
Representation of a leading provider of clinical artificial intelligence software for the early, efficient detection of lung disease, in a $15 million equity investment.